RESPONSIBLE RETURN
All members of the Terranova Community are responsible for their own safety and that of others. It is important to come together as part of a family where each one of us has a duty to mutually look after one another.
Terranova in the face of the emergency
In order to face the challenges that have been placed upon us globally by the Covid-19 pandemic and as we are committed to providing the best service to our educational community, Colegio Internacional Terranova is dedicated to working with the most suitable strategies to resolve educational issues, health and the well-being of our community.
Our objective is to guarantee the continuity of the teaching and learning process for students, ensuring that we care for the health of the Terranova family.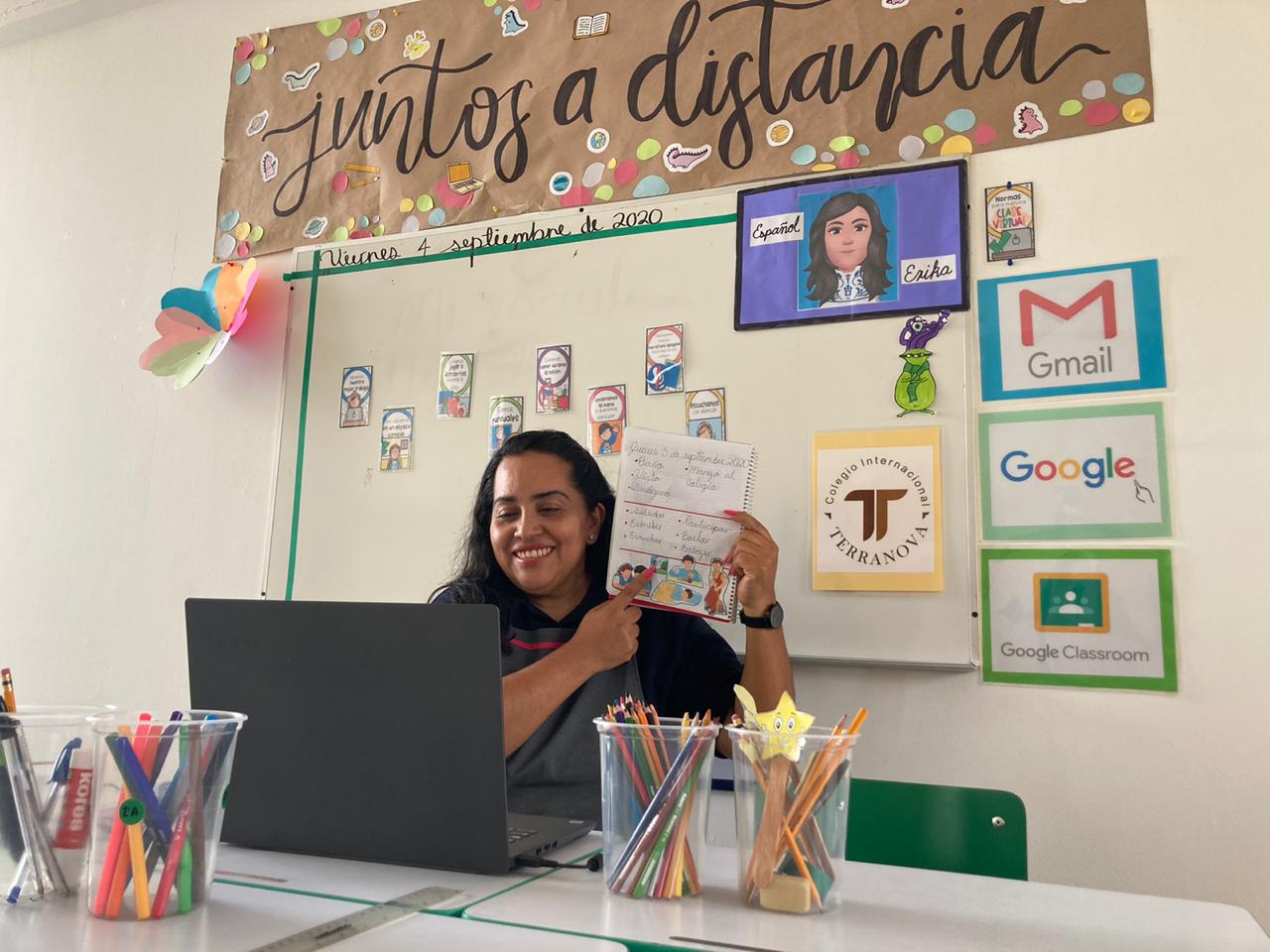 Our actions to provide the best in EDUCATION
Continue the teaching and learning process through diverse digital platforms. 

Train our educators to offer classes using a distance learning model. 

Ensure that our teachers have the necessary tools to implement the distance learning model. 

Redesign our educational programs to adapt to the distance learning model.
Our actions to care for the

HEALTH

of all

Implement a Health Committee 

Create protocols necessary for the responsible return to classes. 

Prepare classrooms and open-air spaces in order to guarantee safe distances for a face-to-face modality. 

Sanitize all work areas. 

Train our cleaning and maintenance personnel.
Our actions to promote the

WELL-BEING

of the Community
Development of the Blog "#Terraencasa" in order to promote the social-emotional well-being of the Terranova family. 

Provide emotional support to students and families who require it through the Counseling Department. 

Provide support to families when solicited.
HEALTH
Terranova preparing for you!
TERRANOVA HEALTH COMMITTEE
Once the health and educational authorities permit it, the responsible return to face-to-face activities implies certain risks that can be minimized with sanitary measures, new routines and ways of working in all areas. 
PREVENTION MEASURES:
HEALTH MAP
Members of our community will be identified if they are considered high risk and if special care is needed under face-to-face situations of positive cases of Covid-19.
INITIAL SCHOOL CLEANING
During the week prior to any activities that involve an influx of students or personnel, an exhaustive cleaning of the interior and exterior of the school installations will be carried out. 
DAILY DISINFECTION AND CLEANING
The cleaning and maintenance staff will apply cleaning and disinfection protocols on a daily basis. 
SCHOOL SCREENING PROTOCOLS
Throughout the entire school year, we will operate with the following three protocols:
1. The first filter is always at home.
You should stay at home if within the last 14 days your child or anyone at home has shown symptoms of Covid-19, has had a positive test or has had close contact with someone who has symptoms of Covid-19.
2. Screening to enter the school.
In order to enter the school, the following three steps are mandatory for all people:
Take temperature
Obligatory use of face mask
Application of gel
3. Screening in classrooms and in offices
Within the school, there will be constant vigilance of students, teachers and general personnel through communication with the school nurse.
OBLIGATORY USE OF FACE MASKS
Within the school installations, it is obligatory for people of all ages to properly wear face masks: students, personnel, parents, supplies/vendors and visitors.  
SOCIAL DISTANCING
We have adapted classrooms and common areas to guarantee the distancing required for face-to-face activities. 
FREQUENT HAND WASHING
We place special emphasis on frequent handwashing to prevent possible propagation of the virus. 
UTILIZING OUTDOOR SPACES
We work to guarantee that all closed spaces have the necessary ventilation. In addition, we have multiple outdoor spaces that will be put to maximum use in order to ensure social distancing while doing activities. 
COVID AREA
We have a specified area for the attention and evaluation of students and personnel who might present some sign suggestive of Covid-19. 
CAFETERIA SERVICE
We will provide further information about cafeteria service when we have more detailed instructions from the Secretary of health. 
COVID Contact
For any question or concern related to Covid-19, we put at your service the availability of our Covid-19 contact at the following email address: 
enfermeria@terranova.edu.mx
EDUCATION
How are we operating during Covid-19?
In order to look after the health of our community, we have designed different educational modalities, seeking flexibility to be able to gradually return to normalcy, or to change between one modality and another according to the "sanitary stop light" color.
Responsible return…. Welcome to Terranova!
At Terranova, learning is taking place in various schemes of distance learning, in line with the IB philosophy, centered on students and seeks a balance between physical, mental and emotional aspects of the children, without compromising the academic programs.
KINDERGARTEN
Distance Model: "Hand in hand with mom and dad"
The school is offering an at home learning model through training and advisory for parents. Such a program will allow children to re- incorporate to school at any time, when face to face classes begin. All students will be enrolled in their corresponding grade with the Mexican Ministry of Education
Children stay home 

Training and advisory is offered to parents according to the activities provided (each Monday). 

The school

provides parents with plans and the necessary material to work at home

every 15 days

.

A live session with teachers each Friday via Google Meet

The pre-school/kindergarten teachers maintain and update a Site that includes resources, videos, tutorials and instructions for the activities provided in addition to suggestions for creating an adequate learning space, promoting active learning, etc.  

Workshops are offered to parents every 15 days.  
The school commits to maintain this modality during the whole school year, in case a family decision is made to continue with the social distancing to assure your the family's safety.
PRIMARY
In order to personalize learning, students in primary school have been divided into smaller groups so that teachers can simultaneously attend to a maximum of 12 students.
Daily time with teachers: 

3 hours with lower primary; 4 hours with upper primary (including special classes which are PE, arts, technology). Spanish and English classes alternate each day. 
From Monday to Thursday, autonomous tasks are assigned with a maximum duration of half an hour for lower primary and one hour for upper primary. It is important to allow the children to work independently as this provides us information to assess understanding in the online sessions.

All grades have online sessions via Google Meet. 
From first grade on, Google Classroom is used to provide structure for virtual classrooms. 
Weekly meetings are held each Friday to work with parents regarding concerns or details about the task to be assigned the following week.
Middle/High School
Terraonline 2.0.
Committed to the educational quality, our teachers are currently undertaking intensive training about Distance Education and pedagogical models that help support the development of abilities and the teaching – learning process.
We are working on a solid structure and organization aimed to promote the well-being for students and their families following the basic fundamentals of the IB.
The protocol for Terra Online 2.0 is the following:
The school day for students is from 8:00 to 14:00 hours. During this time, the student should dedicate him/herself only to school activities in order to ensure academic success. 
Google Classroom is used for virtual classrooms for each subject. 
According to the grade, students will have between 3 and 5 virtual sessions each day, in real time with their teachers. During these sessions, the objective is to foster a close relationship between the teachers and the students and work collaboratively in order to gain a deeper understanding of the educational content in each subject. 

During the school schedule, the student will complete "micro-lessons" and complete assigned tasks, designed so that all tasks can be completed during school hours.  

Assessment and feedback is continuous, during both the live sessions as well as in the independent activities and independent tasks. 
As a part of the curriculum, one hour a week is included to provide social-emotional support to students. The school counselors are available to for individual meetings as deemed necessary.
WELL-BEING
Terra cares
In Terranova, we have a commitment to the well-being of all members of our school community, for which we have created a blog #Terraencasa to develop resilience and optimism. In this blog we share information that contributes to our overall well-being, including cultural, family and social topics as well as physical and emotional health. 
TERRANOVA STUDENTS, CITIZENS OF THE WORLD
As a conscious community and committed to the needs and socio-environmental problems, the middle and high school students have designed and implemented initiatives with tangible impacts. 
At the beginning of this health emergency, CAS students worked on a variety of projects with the intention to provide something within given the circumstances and being at home. Evidence of their work is shown below: 
CAS projects (Creativity, Activity & Service)
Creative ideas for coping with the confinement in the form of recommendations for health care, physical activities as well as training at home and helping at home such as learning to cook, how to write a CV, Reading stores, drawing, book recommendations, poetry readings and how to make music. 
Proyecto Lila  "Project Lila"
The group winner for the National Young Adult Award and their project, "Project Lila" carried out virtual workshops aimed at different social and political institutions.